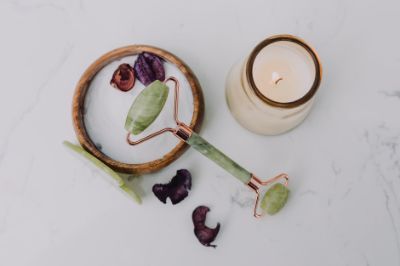 Rosehip oil is an ingredient loved by many, with an interesting name and a wide variety of skincare benefits. Extracted from the fruit (known as rose hips) and seeds, rosehip oil can help with inflammation and pain, and may strengthen the immune system due to an incredibly high vitamin C content! Rose hips are versatile and are often used as hero ingredients in popular skincare products, especially inside products specially formulated to treat symptoms associated with sensitive skin and oily skin.


But it's not just the skincare and health supplements industry that benefits from rose hips, they are also used in the health and supplements industry to make a variety of perishable goods, such as jam, jelly, syrup, soup and beverages such as herbal tea infusions. Rose hips can also be eaten raw, although don't expect a taste as appealing as roses - they are tangy and have strong hibiscus notes with supporting citrus flavours.



What is Rosehip Oil?
Rosehip oil, also known as rosehip seed oil, rose haw or rose hep, is a pressed oil produced from the berry-like fruits of different varieties of the rose plant. Rose hips are the fruiting bodies of the rose (developed after the rose has been fertilised) - in a sweet dance, the petals drop off, the hip (uterus) enlarges and the wonderful seeds we have come to love are formed.


The rose plant is part of the rosa genus in the rosaceae family which comprises approximately 150 reported species. Although rosehip oil could theoretically be made using any of the rose plants in this family, certain varieties such as Rosa rubiginosa and Rosa canina will produce better quality rosehip oil that offers far more nutrients and benefits. The extraction method utilised when processing rose hips will also have an influence on the quality and benefits of rosehip oil.


Rosehip oil differs from rose oil which is created using the petals of the Rosa damascena plant and not the fruit of the Rosa canina, Rosa rubiginosa, or Rosa moschata plants.


Rose hips are remarkable and contain the highest vitamin C content among horticultural crops, fruits and vegetables. They also contain a load of bioactive and beneficial compounds which we'll cover in more detail later!
What's Inside Rose Hips and Rosehip Oil?
Depending on the way in which you use or consume rose hips, you'll be able to derive different benefits from this star ingredient as different components are available in different forms. Rose hips contain a variety of important acids and bioactives that are beneficial for your skin and health, depending on the quality of the rose plant's fruit and the method of extraction.


Active Ingredients Found in Rose Hips


Rose hips contain a variety of bioactive compounds. Let's take a look at this list of nutrients and vitamins inside rose hips, and what their benefits are briefly:


Carotenoids and retinoids (preformed vitamin A)
Tocopherol (has vitamin E activity)
Polyphenols
Bioflavonoids
Tannins and pectin
Sugars, amino acids, organic acids
Folates
Essential oils: a mixture of alcohols, aldehydes, ketones, terpenoids and esters, such as: vitispirane; α-E-acaridial; dodecanoic acid; hexadecanoic acid; docosane; β-ionone; 6-methyl-5-hepten-2-one; myristic acid; linoleic acid/vitamin F (an omega 6 fatty acid).
Polyunsaturated fatty acids: oleic acid, palmitic acid, linoleic acid(vitamin F), gamma-linolenic acid.
Bioactive compounds

In particular, the Essential Fatty Acids (EFAs) found inside rose hips cannot be synthesised by the human body, and must be supplied through diet. EFAs are long-chain polyunsaturated fatty acids (fatty acid compounds containing 18-20 carbons).


Although this may sound complicated, you have probably heard of common examples of fatty acids such as Omega-3 (linolenic acid) and Omega-6 (linoleic acid) fatty acids, which may support brain function and cell growth. Other EFAs may also regulate blood pressure, viscosity, immune, and inflammatory responses. The high vitamin C content inside rose hips is part of what makes it so special. Vitamin C is just as important for the skin as it is for the immune system.
What Does Rosehip Oil Smell Like & What Colour is Rosehip Oil?
Although you might be led to believe that rosehip oil may resemble the sweet inviting scent of rosebuds, rosehip oil's scent is far more subtle and contains pleasant earthy aromas. Some species of rose such as Rosa rubiginosa (also known as Rosa mosqueta) has a fleshy and marine-like scent with an almost fishy odour.


The colour of rose hips typically range between orange and red but may also be a dark purple or black colour in some species of rose plant. Rosehip oil similarly occurs in hues ranging from orange to a soft yellow or strong red in appearance. This is largely dependent on the rose hip used to press the rose hip seed oil or may even depend on the extraction method used during processing.


How is Rosehip Oil Extracted from the Rose Plant and Processed?
High-grade rosehip oil is most often determined based on where the rosa canina plants have been cultivated and the method of extraction of the oil from the fruit.


There are three common extraction methods for rosehip oil:
Solvent extraction - Using maceration (crushing of the fruit) and a solvent to extract the oil from the rosehips.
Cold press extraction - Using pressure to extract oil from the fruit and seeds of the Rosa canina plant.
Supercritical extraction - Highly pressurised carbon dioxide and low temperatures are used for optimal extraction of the rosehip oil.

The highest quality oil is extracted by utilising organic solvents, using a combination of 50% ethanol, 30% water, and 20% cold-pressed vinegar. After vaporising the solvent, the brown-yellow crystals that remain indicate identical structures to vitamin A acid with a concentration of 80%.


What Does Rosehip Oil Do & Its Benefits?
Rosehip oil is renowned for a variety of skincare benefits. It may provide anti-ageing benefits, calm inflammation, assist with clearing acne, reduce oiliness, and help with treating other skin conditions. The incredibly high vitamin C content inside rosehip oil also makes it one powerful asset!


The Benefits of Rosehip Oil
The benefits of rosehip oil are wide-ranging and it has been used in traditional & herbal medicine as well as pharmaceutical formulations. It can be used to benefit the body in a variety of ways when applied to the skin, hair, or used in other formulations.


It has become a popular ingredient in skincare due to its range of ingredients which may promote stronger, healthier skin and is suitable for a range of skin types, including oily skin, dry skin, sensitive combination skin and ageing skin.
Which Skin Conditions & Skin Issues Can You Treat Using Rosehip Oil?
Reduce Acne
Retinol, vitamin A, helps regulate sebum production which may prevent blackheads and whiteheads from forming. Retinol is also a strong keratolytic (or peeling agent) that increases the rate of skin cell turnover by removing the build-up of dead cells. This process prevents dead skin cell debris from clogging pores, reducing the resulting acne.
Oily skin that experiences acne will also benefit from rosehip oil as it contains retinoic acid - a highly effective drying agent for oily skin and pimples. By reducing oil, you can cut off the ammunition for acne to form.


Reduce Inflammation
Rosehip oil contains a key powerful antioxidant in high concentrations - vitamin C. As a powerful antioxidant, vitamin C fights free radicals, preventing damage to the skin's barrier, and also works to reduce inflammation associated with skin breakouts and improve hyperpigmentation (the discolouration of the skin due to acne).



Regulate Sebum Production and Treat Scarring
Bad acne breakouts, and severe types of acne can also cause scarring, which rosehip oil can help fix through the high content of essential fatty and unsaturated acids rosehip oil possesses. Fatty acids play a key role in the permeability of cell membranes and skin's injury repair mechanisms.


The presence of linoleic acid inside rosehip oil also helps regulate sebum production, which is great news for those with oily skin, as it can prevent your pores from becoming clogged with oil, resulting in breakouts.
The inflammation associated with acne can also be reduced by using rosehip oil, which contains anti-inflammatory elements, which we explain below in reference to rosacea - causing flare-ups of severe visible inflammation along with pus filled bumps over the course of weeks or even months!


Rosehip Oil for Rosacea
Rosehip oil is well-known as an anti-inflammatory ingredient and helps treat the inflammation associated with rosacea. Rosehip oil contains polyphenols and anthocyanin (a flavonoid with antioxidant effects).


Rosacea not only results in visibly inflamed skin but it also composes of small pustules/pimples that appear on the skin's surface. Rosehip oil contains vitamin C, a powerful antioxidant, and flavonoids with antioxidant properties, both of which assist in clearing pimples associated with rosacea.
.
Rosehip Oil for Eczema
Eczema is a skin condition characterised by itchy skin, inflammation, flaky skin, and dryness, and there are 7 different types of eczema, the most common being atopic dermatitis. Eczema occurs in dry skin that has low levels of essential fatty acid, which is also characteristic of a skin barrier that is compromised and unable to retain moisture to perform regular skin functions.


Providing your skin with hydration and the correct essential fatty acids (found in rosehip oil) can strengthen the skin's barrier and protect cells. Due to the itchiness associated with eczema, eczema sufferers will often damage their skin further through scratching the skin - which may even result in scarring. Providing your skin with the necessary essential fatty acids can strengthen the skin's barrier and repair it to restore the natural functions of the skin. A stronger skin barrier results in the skin being able to retain water, improving the state of chronically dry skin associated with eczema.


Rosehip Oil for Wrinkles
To understand how rosehip oil may reduce wrinkles, we need to first determine how wrinkles occur. Generally, wrinkles occur due to the breakdown of collagen and elastin fibres in the skin, both of which are essential as connective tissues within the skin's structure. This can occur as a result of sunlight exposure, or as we age naturally and our skin loses moisture which interrupts the skin barrier's natural functions - helping to heal and protect the skin.


Rosehip oil contains essential fatty acids, such as linoleic acid and linolenic acid, as well as vitamin C, vitamin E, and vitamin A. All of these key acids and vitamins promote the production of collagen, fight free radicals, which damage the skin's barrier and clear bacteria from pores, and encourage skin cell turnover and the skin barrier's functions to perform optimally. A skin barrier that performs its normal functions optimally results in a stronger skin barrier, and skin that looks and feels healthier.


Rosehip Oil for Aged Skin & Premature Ageing Skin
Extensive scientific research has shown that vitamin A acid has a positive effect on aged skin. It supports the keratin migration cycle that is responsible for a natural cell regeneration of the skin. After using Rosa mosqueta oil (obtained from Rosa rubiginosa) for three weeks on your skin topically, an increase in renewed cells in the epidermis is noticed. The cells are also stimulated to produce more collagen, which after a daily application of fourteen months, makes the skin look smoother, fresher, and more supple. Vitamin A acid also supports the natural process of removing old skin and clearing the hair follicle.


Rosehip Oil for Scars & Stretch Marks
A study, conducted on 52 people (out of 108 people) with dry skin who completed a treatment involving isotretinoin and remained with serious scars, provided significant successful preliminary results including the disappearance of erythema as in elevation of the base and softening scar edges within 6-12 weeks of applying pure rosehip mosqueta oil. Favourable effects on epithelialisation were also noted.


Vitamin A acid has also shown that (when applied topically over three months) scars were softened and the skin became flexible once again. Research indicates that topically applied oils containing essential fatty acids will speed up the wound-healing process by assisting the formation of prostaglandins. It's not just excisional wound healing the rosehip oil is beneficial for, it's also useful to treat scars resulting from acne and more serious breakouts.


This is largely due to rosehip oils' high concentration of essential fatty acids, which as we have covered above, assists in strengthening of the skin's barrier and allows the skin to perform its natural functions - such as regenerating cells, which repairs damaged skin (and stimulation with keratin migration cycle), improves scars and helps damaged tissue.


Stretch marks occur when the skin is stretched rapidly and the production of collagen is disrupted. Rosehip oil also promotes the synthesis of collagen and improves skin elasticity which is crucial for restoring overstretched skin.


Rosehip Oil and Hyperpigmentation & Skin Discoloration
As mentioned briefly earlier, rosehip oil contains vitamin A, which is effective at providing treatment for hyperpigmentation. Retinol (vitamin A) also inhibits the melanin-producing enzyme tyrosinase - interfering with pigment transfer and speeding up cell turnover through effective exfoliation.


The standard treatment for pigmentation involves the combination of exfoliating existing stained skin and blocking of melanin production to slow down new pigmentation - making vitamin A sound like a no-brainer. It should be noted that this isn't the most effective ingredient when it comes to reducing hyperpigmentation and there are other ingredients out there for those experiencing severe cases of pigmentation.


Rosehip oil's linoleic acid content may also reduce hyperpigmentation and does so by encouraging the turnover of the stratum corneum, the outermost layer of the skin, which will assist in the removal of melanin pigment from the epidermis.


Other elements of rosehip, lycopene and beta carotene, are also said to provide skin lightening benefits, whilst studies conducted on rosehip oil in relation to animals have shown that rosehip oil does contain melanin-reducing properties.


How to Apply Rosehip Oil?
Although it is unlikely that rosehip oil will cause an allergic reaction, it is recommended to apply it to a small section of skin initially to test any negative interaction with your skin. Generally, rosehip oil should be applied up to twice per day, either by itself or you can add it to your daily moisturiser to enrich your skin's hydration.


Which Skin Types Can Rosehip Oil Help?
In particular, rosehip oil is ideal for the following skin types:


Oily skin
Combination skin
Sensitive skin
Breakout-prone skin
Other Uses for Rosehip Oil
Rosehip Oil & Hair
Rosehip is suggested to be useful for improving hair growth and improving scalp health but more research still needs to be undertaken to determine the effectiveness of rosehip oil when it comes to scalp and hair health. The theory is that rosehip oil's anti-inflammatory properties may assist in reducing inflammation associated with specific scalp conditions. It is also thought that due to rosehip oil's potential benefits (associated with its key vitamins and fatty acids) that using rosehip oil would provide a healthier foundation for hair growth and create healthy roots. These hero hair growth elements are namely vitamin C, lycopene, and fatty acids.
Rosehip Oil & Pets
When used in shampoo/cleansing formulations, rosehip oil is reportedly great for calming skin irritation, itchiness and more. Dogs may also benefit from the inclusion of rosehip powder in their diet, with specific reference to alleviating skin conditions.
Rosehip Oil in Dietary Supplements
Rosehip oil may be introduced into one's diet in the form of oil extract or powdered rosehip. It could be consumed on its own, or in the form of one of numerous rose hip by-products, such as rosehip tea, rosehip cordial, rosehip jelly, rosehip syrup or even rosehip vodka (although not all of these by-products are healthy dietary options).