Which oil for which use? At Comptoir des huiles, 1 oil = 1 exceptional property. This guide will help you understand the virtues of each oil to help you quickly find the ideal oil for your skin, your needs and your desires. Health, beauty, well-being... Discover their fabulous natural powers and learn how to use them to best advantage thanks to the expertise and know-how of our team.
ANTI-AGEING OIL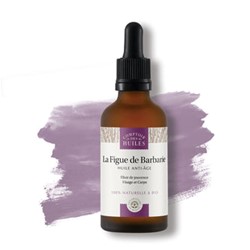 The Prickly Pear
For mature or dry skin
For the care of stretch marks
Face and body
Prickly Pear Oil is known for its restructuring, nourishing and antioxidant properties. Its properties give it anti-ageing actions, so it is the perfect ally for mature skin to counter the effects of time. It will also appeal to younger skin to prevent the signs of ageing. It is also ideal for dry skin as a daily care product, it will nourish and revitalize the epidermis. The repairing virtues of Prickly Pear oil make it suitable as an anti-stretch mark oil. The cracks are nourished in depth, less contrasted and less apparent. The skin appears firmer, smoother and plumper.
DRAINING OIL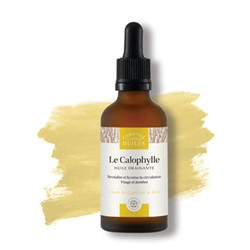 Calophyllum
For mature, sensitive and problem skin
For heavy legs and pain
Face and legs
Calophylla oil is an oil with remarkable multipurpose properties. It is perfectly suited to mature, sensitive and problem skin thanks to its repairing, purifying, soothing and anti-bacterial properties. It concentrates numerous restructuring and protective active ingredients such as omega-6, omega-9, polyphenols and calaustrin. These different nutrients make it an oil with soothing, softening and antioxidant properties. Damaged tissues are thus regenerated and strengthened.
It is also a natural soothing oil that calms pain and decongests by stimulating circulation. This oil is not recommended for people on anticoagulant therapy.
ANTI-BLEMISH OIL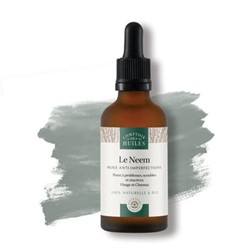 Neem
For problem, sensitive and reactive skin
For sensitive scalps
Face and hair
Neem oil has been known for centuries for its antibacterial, cleansing and emollient properties. Rich in oleic acid and vitamin E, Neem oil nourishes the skin. It is also an ideal purifying agent to help problem skin. It helps to soothe and soften tight skin and sensitive scalps.
REGULATING OIL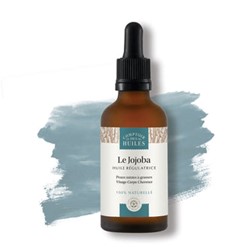 Jojoba
For combination to oily or dull skin
For dry and brittle hair
Face, body and hair
Jojoba oil is one of the most renowned oils because it has undeniable virtues. Its original composition regulates the production of sebum in mixed to oily skin and leaves a matte appearance. Moreover, the dry texture of Jojoba oil allows a good nourishing and softening application without leaving an oily film on the skin. It revitalises dull and lifeless skin thanks to its concentration of omegas-9 and fatty acids such as gadoleic acid and erucic acid. Jojoba oil also has a very positive effect on the hair. It acts as a real cure for dry and brittle hair. The hair fibre is nourished and the hair regains its suppleness and shine.
ANTI-POLLUTION OIL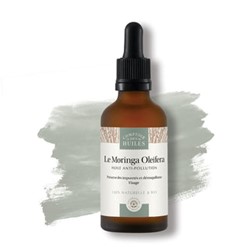 Moringa Oleifera
For sensitive and tight skin
To clean the skin
Face and hair
Rich in vitamins A, B, C and E, Moringa Oleifera oil is the ideal treatment for soothing sensitised and tight skin. Rich in antioxidants, it helps to fight against premature skin ageing, replenishes tissues by nourishing them and helps to keep the skin firm.
A less common use for an oil, Moringa Oleifera oil is also a very good daily facial cleanser. It is very effective in protecting the skin from external aggressions and removing pollution. Used daily, it leaves the complexion clear, radiant and skin soothed.
When applied to the hair, Moringa Oleifera oil will form a film around the hair fibre to protect it from external aggressions, from the roots to the tips.
EXTRA-NOURISHING DRY OIL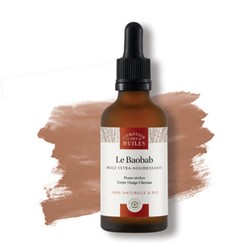 The Baobab
For dry skin
For dry and split hair
Body, face and hair
A real asset for our skin, Baobab oil has an ultra-nourishing, anti-ageing, softening, lipid-replenishing and regenerating action. Thanks to the omega-6 and omega-9 it contains, Baobab oil nourishes the skin in depth and preserves its hydration by acting as a natural protective film. The vitamin E present in this oil makes it an effective anti-ageing complex, helping the skin to retain its elasticity and youthfulness. Baobab oil concentrates a large amount of phytosterols which act to repair damaged tissue. It is also beneficial for the hair, nourishing it in depth while protecting it from external aggressions. Dry and split hair regains its tone and beauty.
STRENGTHENING OIL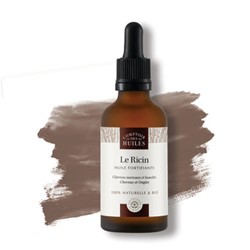 Ricin
Promotes growth
For brittle nails
Face, nails, hair and eyelashes
Castor oil never ceases to amaze us because its effects on our bodies are considerable. The ricinoleic acid naturally contained in this oil purifies the skin. It is also said to have a soothing effect on sensitive and irritated skin. It restores strength to nails, eyelashes and hair and promotes their growth. It is also an excellent repairing and plumping agent for damaged skin. (chapping, cracks...). Used on the face, it restores radiance.
OIL TO PROMOTE HYDRATION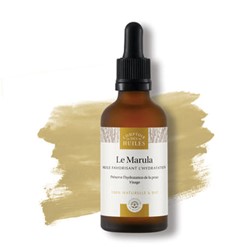 The Marula
For normal skin
For shiny hair
Face, body and hair
The high concentration of antioxidants, saturated fatty acids and vitamins C and E make Marula oil a versatile oil suitable for all skin types. Its nourishing and protective properties help to keep the skin smooth and full of vitality. Marula oil also promotes skin hydration by limiting the evaporation of water from the epidermis. It will bring comfort and suppleness to the skin from head to toe. Marula oil brings protection and shine to the hair by nourishing it without making it greasy.
SHEATHING OIL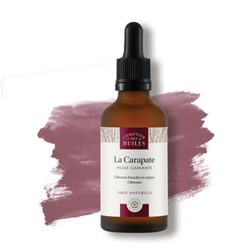 The Carapate
For curly, frizzy or dry hair
Promotes hair growth and curl retention
Face and hair
Widely used to promote hair growth and prevent split ends, Carapate oil has qualities similar to those of Ricin oil. Ideal for curly, frizzy or extremely dry hair, Carapate oil is particularly effective thanks to the fatty acids it contains (ricinoleic acid). It helps to nourish, protect and coat the hair fibre. It also cleanses dry or irritated scal ps thanks to its anti-bacterial properties. In addition to its effects on the hair, Carapate oil is effective in strengthening and encouraging nail and eyelash growth.
SOOTHING OIL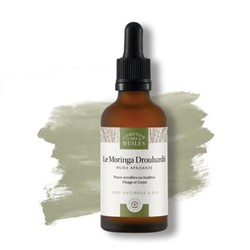 Moringa Drouhardii
For tight and sensitive skin
For hair fortification
Face, body and hair
Rich in vitamin E and alpha-tocopherols, Moringa Drouhardii oil is a versatile beauty essential known to soothe and protect sensitive skin. Rich in antioxidants, it helps fight premature skin ageing, replenishes tissues by nourishing them and helps keep skin toned and firm.
Applied to the hair, Moringa Drouhardii oil will help to nourish the hair fibre in depth, from the roots to the tips. Lightly massaged into the scalp, it will help to cleanse the scalp. The vitamins and minerals naturally contained in this oil help to strengthen the hair and make it shine.
REPAIRING OIL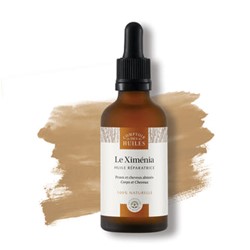 The Ximenia
For damaged skin
For dull and damaged hair
Body and hair
Rich in fatty acids, this oil has very nourishing and repairing properties. When used on the body, Ximenia oil will help to repair damaged tissues in depth. Its film-forming action helps to keep the skin well hydrated. This film will also play a protective role, creating a barrier to repel external aggressions. The epidermis is restructured and the skin appears softer, smoother and protected.
Applied to the hair, Ximenia oil will restore strength and vitality to dull and lifeless hair thanks to its vitamins and nutrients. It will form a protective film around the hair to nourish, protect and restore shine.
The advantages of using pure vegetable oils
Apart from the fact that the most commonly used vegetable oils are the same and very popular in the kitchen, they are in fact wonderful cosmetics (some of them are not edible at all). Thanks to the vitamins and fatty acids they contain, vegetable oils are a real goldmine for our bodies.
Depending on the plant from which they originate, they can be moisturising, protective, anti-oxidising, repairing, fortifying or sebo-regulating. Depending on the oil chosen, there are many uses, which makes it an inexpensive natural cosmetic. It can be used for the face, body and/or hair. In short, one oil can be enough to moisturise from head to toe. Because it is a pure, naturally rich and simple ingredient, the use of a vegetable oil is beneficial and rarely allergenic, unlike essential oils for example.